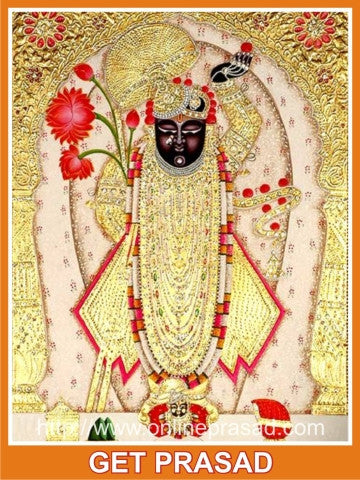 Srinathji Prasad, Nathdwara
With lots of Blessings Get Prasad from Srinath Ji Temple, Nathdwara, Rajasthan
You get a box-full of Barfi and tasty matari along with a beautiful picture of Srinath ji.
Srinath ji temple is the only temple of Lord Krishna, where the deity is worshipped and treated as a child. Full name of Srinath ji is Sri Govardhan Nathji and he represents Bal Krishna. In Bhagavata Purana, Srinath had been described in a narrative form where Krishna Ji liffts the Govardhan hill in his childood in order to protect the inhabitants of Vrindavan from Heavy rains.
Now, get Shri Krishna's prasad from Nathwara. Offer Prasad at Srinath ji temple at Nathwara and seek his divine blessings
About
Situated on the bank of River Banas, Nathdwara, literally means doorway to God. Nathwara is a famous pilgrimage for the devotees of Vaishnava community.
It is said that the temple was constructed at the site which was the dictated by the Lord himself. The idol was built in the the 17th century and was moved from Agra to protect it against the destruction by the Mughal ruler Aurangazeb. The chariot, which carried the idol ,got stuck in mud at Sihad village of Mewar and did not move further. The priests who were bringing the idol thought that the spot has been chosen by the Lord Himself. Hence, with the permission of the King of Mewar, the idol was enshrined in the temple When the construction of the temple was completed, the idol of Srinath ji was shifted here and the town was renamed as Nathdwara or the doorway to God. 
It is said that Krishna Ji, for his beloved devotees, manifested himself in the form of Srinath Ji in the image of stone which was about five foot high from the depth of the Govardhan hills. Srinath ji temple is a simple structured house type temple that resembles to the Nanda Bhawan, or the house of Krishna Ji's father - Nanda Maharaj.
Rituals
The inner sanctum of the temple is opened only eight times a day. Devotees visit the temple in large numbers to have a single glance of the deity. The deity is given royal treatment and is always dressed in finest clothes and jewels. The deity is offered with atleast 56 varieties of delicious food items and after which is distributed as prasad to the devotees after the offering has been made. The most popular bhog prasadam are 'boondi ladoos', 'mohanthal' and 'koprapaak'. 
The important festivals of Srinath Ji are Annakuta festival, Rose festival and Pechwai festival, which are celebrated with pomp and show at the temple every year. 
OnlinePrasad.com is not a temple representative. We act as your representative to offer & deliver Prasad to your doorstep. The price of Rs. 501 will be used to buy and offer Prasad at the temple. And, to cover all miscellaneous costs such as -
Packaging,

Professional handling and logistics,

Shipping,

Payment collection, and

Government taxes
Please feel free to give us a missed call at 09933421341 for any questions.
---
Recommended for you
---